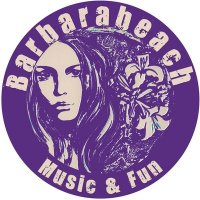 Il Barbarabar si trasferisce per la stagione estiva '09 alla Playa, in una splendida location.

IL 12 GIUGNO SI PARTE CON ROCK THERAPY SUMMER EDITION


VENERDI' 26 GIUGNO
ROCK THERAPY SUMMER Edition
BETTY FORD CENTER + LONG HAIR IN THREE STAGES (LIVE)
www.myspace.com/bettyfordcenter

www.myspace.com/lh3s
feat. DJ renato/g.lo

VENERDI' 17 LUGLIO
ROCK THERAPY SUMMER Edition
DIANE AND THE SHELL + JEZERY (LIVE)
feat. DJ renato/g.lo
Diane and the shell:
Centinaia di live all'attivo tra Italia, Stati Uniti, Irlanda, Inghilterra.
Due dischi all'attivo di cui l'ultimo (30.000 Feet Tarantella)prodotto dalla label texana Australian Cattle God Records.
Hanno condiviso il palco con band italiane ed estere come Uzeda, Dave Thomas & Two Pale Boys,Hugo Race, Pattern is Movement, Gorch Fock, Tia Carrera, Bookos, The Snake Trap.
Musica profondamente intrisa da ironia, citazioni random e dissacranti tra colonne sonore di videogiochi 8-bit, math-rock e cadenze siculo-morriconiane ibride a disco-rock dai pantaloni a zampa(!).
In estate alle prese con le registrazioni del nuovo lavoro discografico.Voci di corridoio dicono che il missaggio del nuovo disco verrą affidato a John McEntire dei Tortoise(!).
info & ascolti: www.myspace.com/dianeandtheshell - www.dianeandtheshell.net
Jezery:
Quartetto proveniente da Cork, Irlanda, matrice post punk contaminata da prog e psichedelia.
A cavallo tra seventies,confini jazzy e sfumature funky.Un must per chi oscilla tra Mars Volta, King Crimson e Redneck Manifesto.
Attualmente lavorano al full-lenght album dopo due EP ben accolti dalla stampa irlandese.
info & ascolti: www.myspace.com/Jezery

VENERDI' 7 AGOSTO
ROCK THERAPY SUMMER + THE BANSHEE (LIVE)
www.myspace.com/thebanshee
* Si ritrovano in loro New Order, XTC, Devo, Gang Of Four, Talking Heads, si legge di loro su Rolling Stone, Blow Up, Rocksound, Mucchio Selvaggio e persino sulla prestigiosa rivista inglese NME, ma bisogna assaporarli di persona per rendersi conto di quale buona fattura ci sia dietro questo quartetto dalle promettenti prospettive.
feat. DJ renato/g.lo
E-mail: barbarabar@alice.it
Barbarabeach, Playa V
iale Presidente Kennedy, 85/A
Catania